In this edition of Logistics Bite-Size, we consider the climate-related issues facing the industry, and steps to take to mitigate these risks.
Climate change and its impact on logistics and freight forwarders
As world leaders met in Egypt for the UN climate conference (COP 27), the impact of climate related extreme weather events could not be more apparent. The World Meteorological Organisation declared 2020 as a record breaking year for tropical storms. In 2021, western Europe saw its worst flooding since records began and 2022 has seen record global temperatures, fires across southern Europe and drought conditions across the south east of England. These extremes of weather are having a severe impact on the logistics industry.
Tidal and storm surges, rivers bursting their banks and heavy rain
Many warehouses are, for ease and convenience of cargo delivery and distribution, situated next to rivers and ports. Many are also modified industrial buildings which were originally built next to rivers for logistics purposes. The risk of property damage to such buildings and any goods stored therein is quite clear. Flooding, for example, (particularly with salt water) can cause considerable damage, which gives rise to substantial claims.
The approach of many warehouse keepers is to simply say that the flooding was not their fault.
While the port or warehouse keeper might not be able to prevent the flood, they do decide where and how to store the goods. As part of their obligation to exercise reasonable skill and care in the custody of the goods, the warehouse keeper, as bailee, will be expected to choose a safe location. If the goods are stored in an area which is at substantial risk of frequent flooding, the bailee is going to struggle to show that they have discharged their duty of care.
Maintenance issues are crucial, and go towards establishing whether a warehouse keeper has exercised reasonable skill and care in maintaining the building in which the goods are stored. Maintenance issues are, from a legal point of view, reasonably straightforward. If the port or warehouse company can demonstrate that it has properly maintained the storage facility, the drains, gutters and other services, then this is unlikely to give rise to a source of liability. If a property is not properly maintained, however, the bailee will struggle to overcome the burden of proof required.
As the risk of flooding continues to increase, ports and warehouse companies need to ensure that while they are carefully monitoring their expenditure during the cost of living and energy crises, matters such as warehouse maintenance don't get overlooked.
Heat and fire
The recent heatwave across areas of the UK put increasing pressure on the entire transport network. Many trains were cancelled, and those that could run did so at a reduced speed. This led to increased pressure on the road network, which had also suffered damage due to the extreme heat on road surfaces. This had a knock on effect on those hauliers trying to get goods to destinations within strict contractual delivery times.
The heat also impacted temperature-controlled carriage and storage. If parties arranged carriage on the assumption that the equipment would have to deal with temperatures in the low twenties, that equipment may struggle to handle temperatures in the high thirties or even as high as forty degrees centigrade.
Wildfires have long been a hazard in some areas around the world but they were, until relatively recently, seen as something of an unusual event in Northern Europe. The risks associated with heavy rainfall and flooding (considered above) are far more closely associated with the typical British summer.
In addition to wildfire risks, the Met office issued its first ever red warning for extreme heat. As well as the considerable impact on logistics infrastructure, health and safety concerns resulted in staffing issues.
It is important that those within the logistics industry continue to monitor the facilities and services which they provide and ensure that they adequately assess and plan for the risks of climate change. A warehouse keeper or forwarder may currently be able to persuade a court that it is unreasonable to demand equipment designed to cope with temperatures above 40 degrees Celsius where such temperatures have never been seen previously. However, it is clear that climate experts are anticipating an increase in such extreme weather events. This means that warehouse keepers and forwarders will, in the not too distant future, be required to expect such temperatures to occur and, at that point, they will be expected to provide equipment and facilities able to meet such demands.
This is part of the wider need for companies and their insurers to consider climate related operational risks across their entire business supply chain.
Can liability for fire, flood or storm be excluded?
Bailment relationships are often governed by contractual terms, but even where no contract exists, most ports, logistics providers and warehouse keepers will claim to rely on some standard terms (although incorporation can be a challenge!). These terms frequently include force majeure clauses, which seek to exclude liability where the loss or damage is caused by circumstances outside the control of the parties. Some go further and name fire, flood and storm as specifically excluded perils.
Where goods have been placed in a facility which is at high risk of flooding or other natural disaster and there has been a failure to take adequate steps to protect the goods from such event, it can be very difficult to argue that loss or damage to the goods has arisen through circumstances outside the control of the bailee. It was, after all, the bailee's decision to store the goods at the site in question and it was the bailee's decision as to what flood or other weather defences it would deploy. If those decisions were defective (perhaps even negligent) then that may be considered to be a circumstance within the control of the bailee. This could then take the issue outside the scope of many force majeure clauses.
Where fire, flood or storm is named as a specific exclusion, this might be more difficult for a cargo claimant to overcome. However, the courts tend to interpret such exclusion clauses restrictively. Thus, if the goods have been exposed to a significant risk of flood by the negligent choices of the bailee, the court might consider that a general flood exclusion would not respond by virtue of the negligent act. A court might consider that, if the bailee wishes to exclude liability for flood where it has negligently exposed the goods to a risk of flood, it would be necessary to expressly refer to the bailee's negligence as a separate, excluded clause. Such a clear clause (expressly excluding negligence) can be commercially sensitive!
However, it can be far more difficult for a carrier to demonstrate that they were unable to prevent the consequences of the extreme weather event unless they can demonstrate that they have taken the risk into consideration.
The future of risk assessments – a new norm?
Ports and warehouse companies often rely on their insurers for risk assessments and if the insurers are satisfied, the insured often assumes that the risk must be acceptable. However, the insurance industry often assesses such risk by reference to historical and claims-based data. Such data is particularly unreliable when used to predict climate change and other risks which can be expected to change and develop over time.
Risk assessments and flood surveys are available and can assist in demonstrating that a warehouse keeper or logistics provider has at least appreciated the risk and gone some way to understanding and managing it.
They may also struggle to rely on exclusion clauses or force majeure clauses, even though the flood or fire may have been caused by climate change.
Fire and heat risks are emerging as issues that should also be considered in risk assessments, even across Northern Europe. There are frequent warnings of such extreme weather conditions and increasing amounts of data available suggesting that such events will increase in frequency and impact. Those responsible for storing and managing goods will need to demonstrate that they have taken heed of such warnings - and that they have used reasonable endeavours to protect against the conditions predicted.
More from Logistics: Bite-Size Insights
September 2022 - Logistics Bite-size Insights
July 2022 - Logistics Bite-size Insights
May 2022 - Logistics Bite-size Insights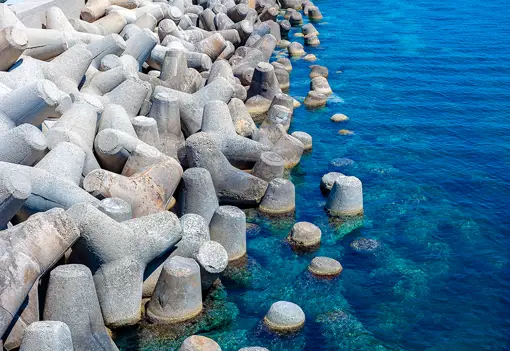 Related report - Rewriting the risk: Addressing the challenge of climate change
Our latest global report finds that the insurance industry has a central role in building wider understanding about climate-related risks and in mitigating against those risks.
Related content