Covenants restricting competitive activity often appear in employment contracts or in agreements related to the sale of a business. At their heart, these covenants are intended to protect the business goodwill of an enterprise. Too frequently, however, covenants are overly broad and restrict persons who do not truly pose a risk of harm to the goodwill of the business. It is not surprising then that a growing number of jurisdictions are limiting or outright banning restrictive covenants. Indeed, there has even been a call for federal attention to curtail the use of restrictive covenants as a way to promote competition in the US economy.
The following map reflects the jurisdictions with legislation limiting the use and enforceability of restrictive covenants: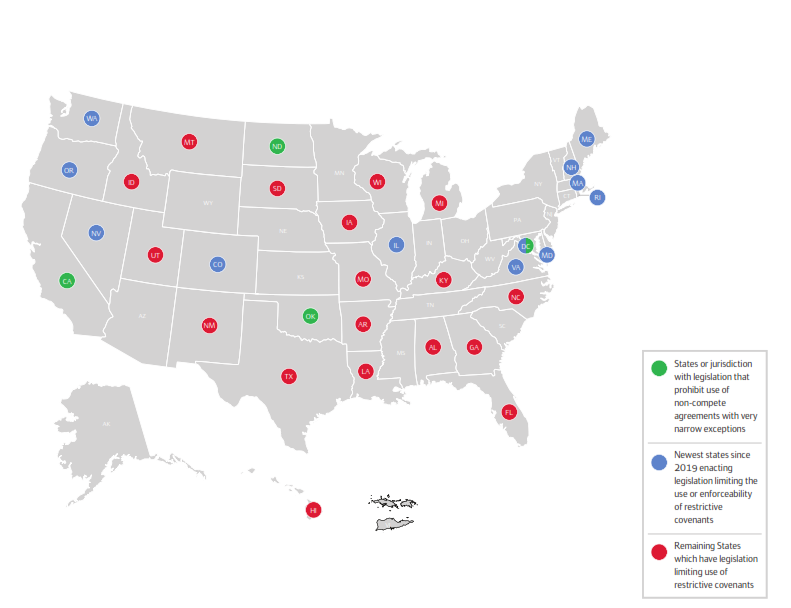 The standards for an enforceable restrictive covenant vary based on different regulations throughout these jurisdictions. These differences typically include:
varying wages thresholds;
inapplicability to a specific employment type such as a healthcare worker or someone in the broadcasting industry;
specific notice requirements pre and/or post-employment; or
a cap on the restriction period, such as 12 or 18 months.
And state reforms go even beyond civil legislation. For example, Colorado recently pioneered a strict enforcement mechanism to deter use of non-competes by making an employer's violation of the state's non-compete law a criminal offense.
Even in jurisdictions where there is no current legislation deterring the overuse of restrictive covenants, there is increasing case law reflecting this growing trend. For example, the Delaware Court of Chancery recently invalidated a non-competition provision in the context of a business sale agreement, finding the restriction exceeded the buyer's "legitimate business interest." See Kodiak Building Partners, LLC v. Philip Adams, No. 2022-0311-MTZ, 2022 WL 5240507 (Del. Ch. Oct. 6, 2022). Just three months later, the Delaware Court of Chancery issued another decision, evaluating and scrutinizing restrictive covenants. See Ainslie v. Cantor Fitzgerald, No. 9436-VCZ, 2023 WL 106924 (Del. Ch. Jan. 4, 2023). In Cantor Fitzgerald, the Delaware Chancery Court again invalidated restrictive covenants for being too broad, this time within a Limited Partnership Agreement restricting former partners from competing, soliciting clients or employees, or using confidential information. Delaware is generally a contractarian State, honoring agreements between parties. However, similar to the trend in other jurisdictions, the Delaware judiciary is not inclined to accept overly broad and unduly burdensome restrictive covenants, particularly where they are not properly designed to protect the legitimate business concern of the former employer or buyer of a business.
In light of this growing trend, what do employers and parties to business sale agreements need to know?
First, they need to know what is legislatively permitted in the jurisdiction controlling their respective agreement(s).
Second, even if there is no statutory limitation, they should be aware and recognize that generic covenants with an overly broad restrictive scope, whether geographic, temporal, or otherwise, will likely be closely scrutinized by a court if litigation ensues. Employers, other parties and their counsel should understand the judicial standards applied in determining the enforceability of restrictive covenants in the jurisdiction controlling their agreement(s).
Lastly, employers in particular should avoid generic restrictive covenants applied broadly to their workers. Employers should instead tailor restrictions to apply against only those workers who may genuinely impact the goodwill of the enterprise.
COMMENT:
The legal obligations related to restrictive covenants nationwide are evolving, which impacts multistate employers and companies significantly. With the increasing trend of legislation and judicial scrutiny on the use and enforceability of restrictive covenants, it is becoming more prudent to tailor restrictive covenants to specifically protecting the genuine interests of a business.