This research was conducted in collaboration with Insurance Post. This article was authored by David Worsfold, journalist and originally published on Insurance POST.
Insurers will come under increasing pressure from major corporate clients and consumers to demonstrate their pro-active engagement to tackle global warming and play a major part in helping hit the UK's 2050 target for net zero emissions.
Bold words, grand gestures and clever marketing will not be enough. Meaningful, effective action will be needed. This is one of the key findings of the Post climate change survey, carried out in conjunction with Kennedys.
When asked to what extent corporate clients focus on an insurer's position on climate change when placing insurance today, almost 85% of respondents said it was either not a consideration (36.5%) or merely a factor but not a major consideration (48.1%). Flip that forward ten years and the expectation is that the world will look very different with over 70% expecting it to be a consideration (36.5%) or a major consideration (35.6%) for clients.
Just how fast that sentiment will change over the next decade is a difficult question to answer. The Covid-19 pandemic has pushed climate change out of the headlines and into the background but with global campaign groups such as Extinction Rebellion already stirring it is unlikely to stay there for long. Insurers are firmly in the firing line as far as campaigners are concerned as the campaigners that greeted Lloyd's underwriters and brokers when the market re-opened this month reminded everyone.
Back in the headlines
Weather-related natural catastrophes will also soon propel climate change back into the headlines. Wildfires in California posing unprecedented threats to urban areas, flood waters threatening the Three Gorges Dam on the Yangtze River and the prospect of a brutal Atlantic hurricane season are already starting to dominate news bulletins and front pages.
Among insurers' clients there is a feeling that there is still some way to go before climate change is fully embraced as a critical risk. The recent Top Risks and Megatrends 2020 report published by Airmic found risk managers sounding a very cautious note about the importance climate change currently has in their boardrooms.
It stated: "There is a real danger of kicking the can down the road. Businesses will bear the brunt of climate change, which is already posing risks to them today. Flooding and other extreme weather events have damaged assets and have disrupted business operations. These will cause knock-on effects that will disrupt supply chains and impact staff, ultimately leading to lost revenues and reputational damage, all of which will intensify over time.
"Yet, many businesses still see climate change as something for governments and non-governmental organisations to deal with and co-ordinate, and are unwilling to make investments towards that end. Most businesses are unlikely to take appropriate action unless forced to do so by legislation."
Global collaboration essential
The clock is ticking if the world is to halt global warming, says Professor Sir Robert Watson chair of the Intergovernmental Science-Policy Platform on Biodiversity and Ecosystem Services and former chair of the Intergovernmental Panel on Climate Change.
"We need net zero emissions by 2050. It is technically possible but politically highly unlikely."
The key will be collaboration between a wide range of national and international bodies.
"There is a need to reform our economic and financial systems as this is not just an environmental issue. It is an economic issue. It is a development issue. This will require collective actions nationally and internationally."
The delayed Cop26 conference in Glasgow next year has the potential to make this happen, says Prof Watson, but only if the UK takes a strong leadership role and it draws in other key global bodies, including the World Trade Organisation, European Union and United Nations committees.
"We need to bring all the key actors together otherwise we don't have a chance of tackling these problems."
To what extent do you think corporate clients currently consider the insurer's position on climate change when placing insurance?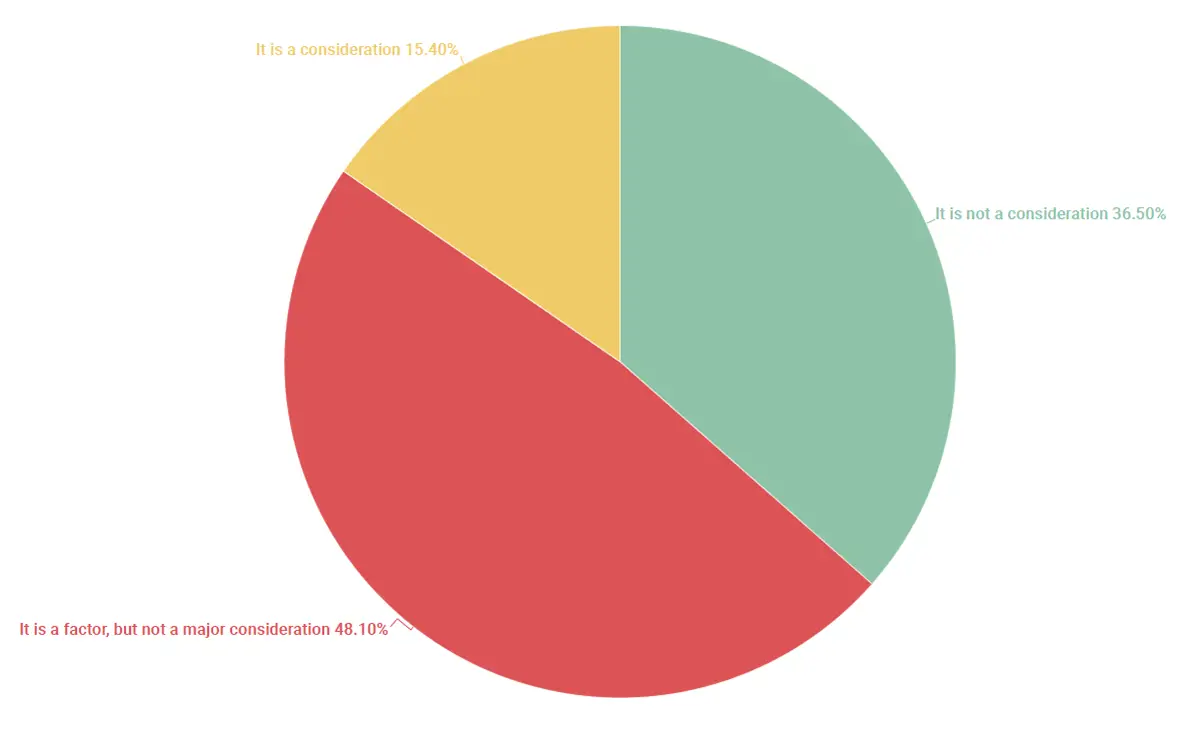 To what extent do you think corporate clients will consider the insurer's position on climate change when placing insurance in 10 years' time?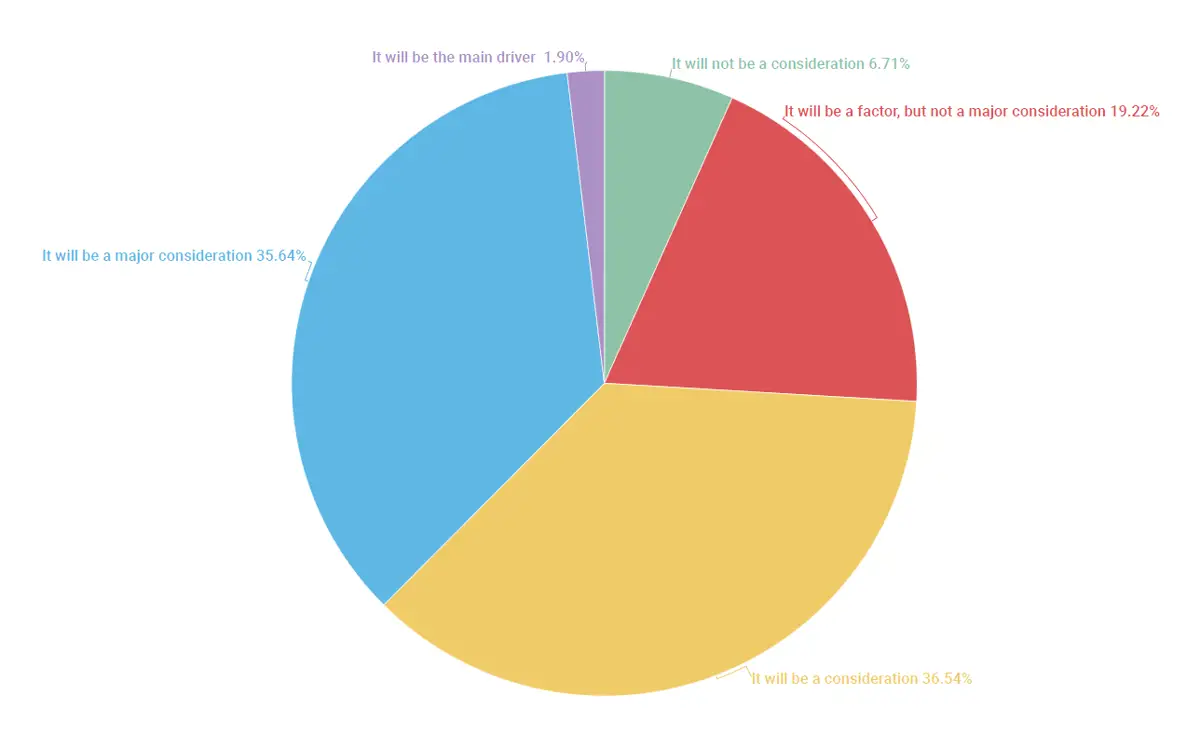 Potential for change
Facing up to the implications of the potential for a huge change in sentiment among clients will force the industry to accept a moral responsibility to use its commercial influence and investment might to bring about real change. This challenge is not without controversy.
It poses questions about how far the insurance industry should adopt a moral, even campaigning, stance on climate change. Some respondents were far from convinced this should be a role for the insurance industry.
"Our job is to insure legal business operations not to be a moral compass," said one, adding "…it is not the business of the insurance sector to effectively make life difficult for businesses that are operating legally. Climate change and emissions policy is a matter for governments, not publicly owned institutions unless their shareholders actively demand it."
Other respondents disagreed, arguing that shareholders should be very interested as climate change poses a serious threat to many firms in the sector.
This gloomy assessment was only partially shared by the rest of the respondents. Climate change may not quite have forced itself to the top of the boardroom agenda yet but is gaining greater traction. Just three years ago only 30% saw it as a top five risk: now, 54% do so.
The pressure on insurers and other major financial institutions to treat climate change as a top risk is intensifying.
Around the world financial regulators and supra-national bodies including the United Nations and European Union are demanding more focus on the systemic risks posed by climate change.
In terms of your employer's risk register, where do you think reducing the global gas emissions/carbon footprint as a response to climate change risks rank?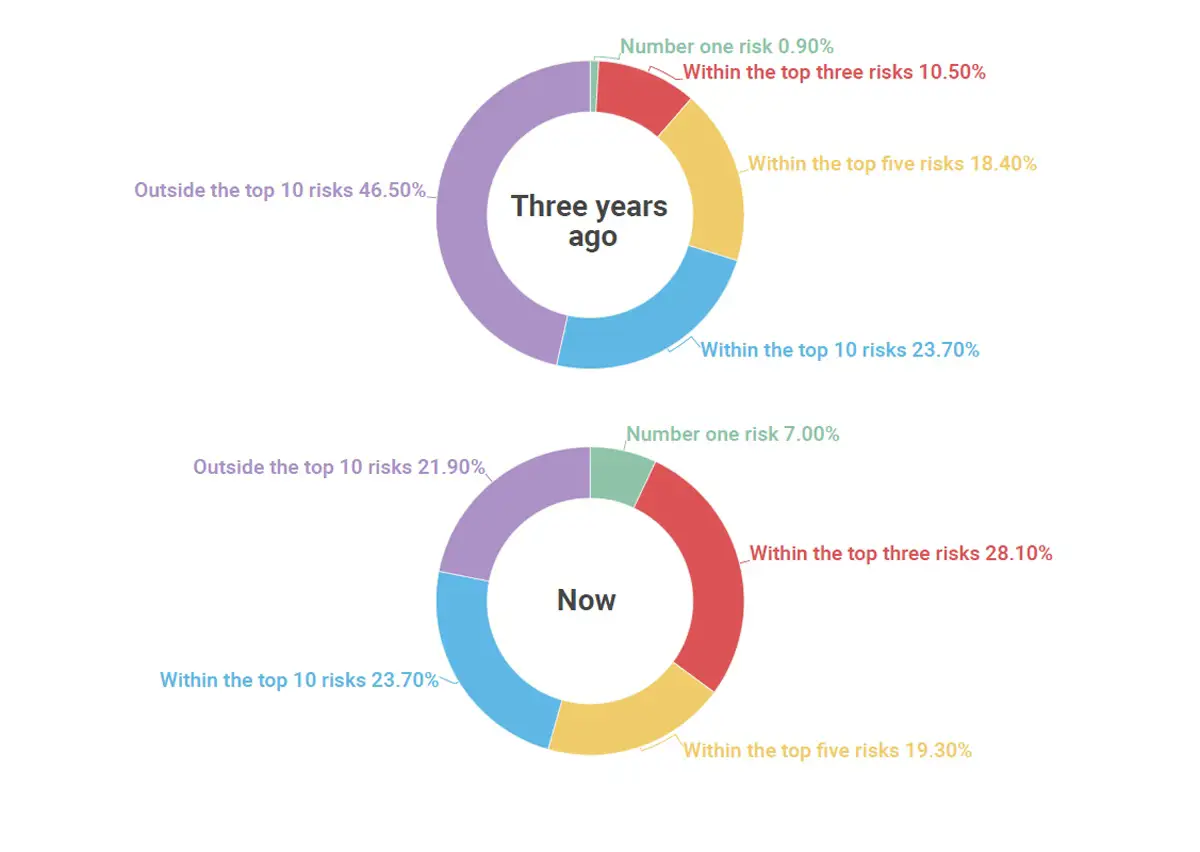 Setting the tone
Setting the tone Former Bank of England governor Mark Carney set the tone for this at the United Nations Climate Action Summit in New York at the end of last year.
He told the global audience: "To bring climate risks and resilience into the heart of financial decision making, climate disclosure must become comprehensive; climate risk management must be transformed, and sustainable investing must go mainstream."
Disclosure was a prominent theme in his speech to the summit.
"The next step is to make these disclosures mandatory. The UK and EU have already signalled their intents. It's time for every country to get involved because the world won't get to net zero if the financial sector doesn't know how our companies are responding. In order to watch we must be able to see.
"Over the next two years, the current process of disclosure by the users of capital, reaction by the suppliers of capital, and adjustment of these standards will be critical to ensure that the Task Force on Climate-related Financial Disclosures standards are as comparable, efficient and as decision-useful as possible," said Carney.
He called for all providers of capital – banks, insurers, asset managers and other national regulators – to improve their understanding and management of climate-related financial risks.
"There are some areas of our expectations where few barriers exist to full implementation, but we recognise that challenges remain in others. Where challenges exist we will work closely with firms to understand how they are seeking to overcome them," he said, setting the end of 2021 as the date to "fully embed" plans to deal with climate risks.
He accepted that limited data meant some firms might not be able to calculate the full impact by the end of 2021, but said this could not be used as an excuse for delay.
Please rank the below six sectors in terms of their initiatives and commitment to reducing greenhouse gas emissions to net zero by 2050, as proposed by the UK Government?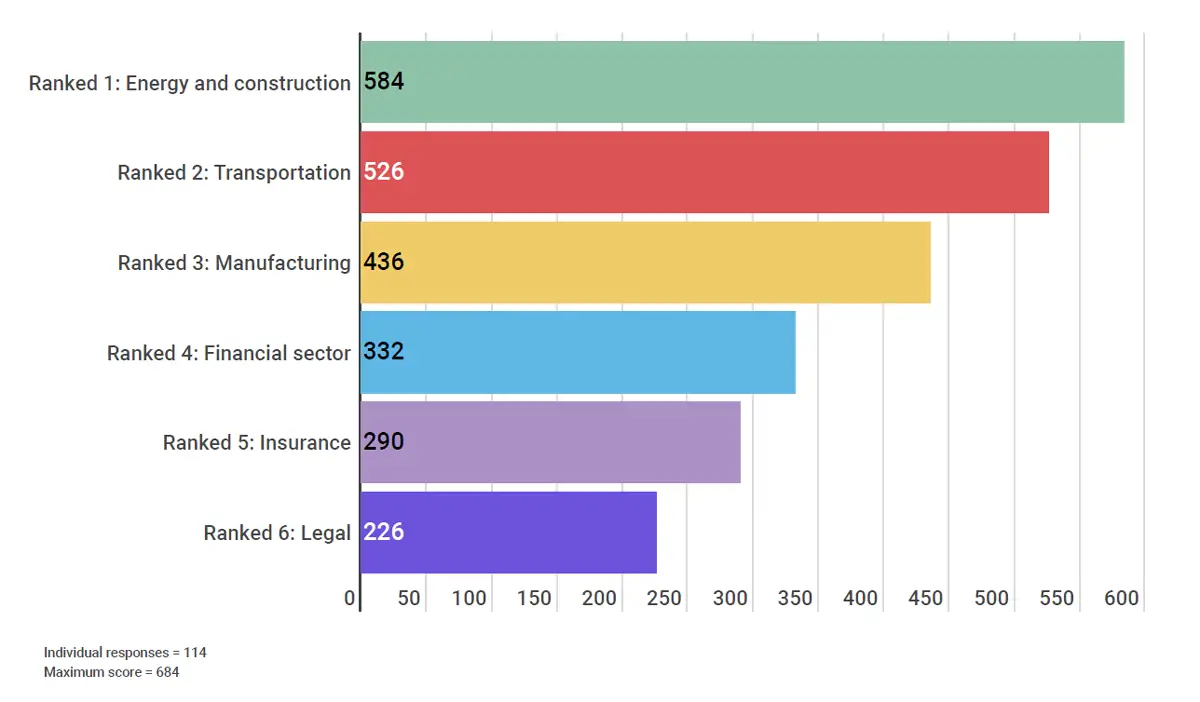 How important do you see the insurance industry's role in helping reduce the greenhouse gas emissions to net zero by 2050, as proposed by the UK Government?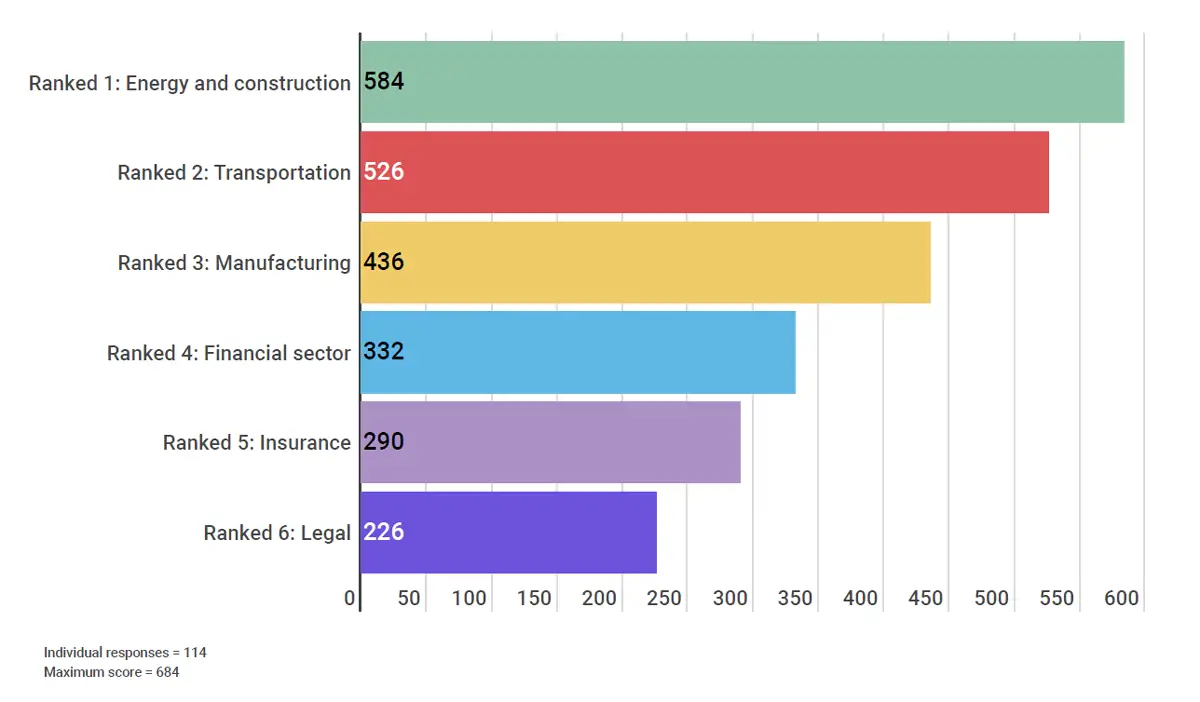 How important do you see the insurance industry's role in helping reduce greenhouse gas emissions to net zero by 2050, as proposed by the UK Government?
Mandatory disclosures
His colleague Sarah Breeden, the bank's executive sponsor for climate change, followed up that letter with an online briefing in which she made clear that disclosures on climate-related information should soon become mandatory, given the scale of change required. She said the bank and other regulators were looking at ways to make such disclosures mandatory, adding: "But you do not need to wait to be forced to disclose. You can choose to act now."
Acting now is a priority for climate change campaigners, says Professor Sir Robert Watson chair of the Intergovernmental Science-Policy Platform on Biodiversity and Ecosystem Services and former chair of the Intergovernmental Panel on Climate Change.
"Financial institutions must ask themselves what projects and what businesses are sustainable. We need the financial community to put their money into sustainable businesses that are going to have a positive impact on the environment. We also need them to think about how they can support clean energy and also promote biodiversity.
Leading the way is Insure Our Future, recently rebranded from its previous incarnation as Unfriend Coal. This global network of some of the most effective corporate campaigning groups has the ear of policy makers in Europe and the United Nations. Peter Bosshard, director of the finance program at one of those groups, California-based The Sunrise Project, says insurers have to be part of the solution.
"Our campaign started with coal in the spring of 2017 by asking insurers to withdraw from supporting the coal industry. You get the biggest bang for your buck with coal [responsible for 40% of global CO2 emissions] so it was the obvious place to start. We could tell that there was a need for action because there were gaps between what insurers were saying publicly and what they were actually doing. We have seen some success over the last three years with 19 major insurers ending or limiting underwriting of coal."
Withdrawing investments
At the same time, many of those insurers have also started withdrawing investments from coal production and coal-based energy generation.
While most survey respondents placed insurance well down the list of sectors that could contribute most to reducing greenhouse gas emission to net zero by 2050, the ability of the insurance sector to influence those industries was clearly appreciated by the overwhelming majority. Almost 80% said it had an important or very important role to play. This will be music to the ears of climate change campaigners, governments and regulators.
How it should play that role is a question that divides opinion in the market. The industry has two big weapons to deploy: underwriting and investment. With the majority of the respondents drawn from the underwriting and claims sides, perhaps it is not surprising that they would rather push their colleagues in their investment departments into the front line.
"Investment policy more generally is as influential as or more so than underwriting decisions depending on what sectors you are in," said one respondent with another adding "Investments should be made only in green and ethical companies – this would hit the carbon industries harder than withdrawing capacity."
While withdrawing capacity from existing clients is something many respondents are hesitant about, there is strong support for not taking on new polluting businesses and also for offering competitive rates to incentivise the design, construction and operation of green and renewable energy businesses.
One objection to walking away from existing clients considered to be major polluters is that other insurers not so committed to playing their part in tackling global warming will snap up the business.
On a scale of 1 to 5, how do you rate each of the following strategies in terms of helping to reduce greenhouse gas emissions?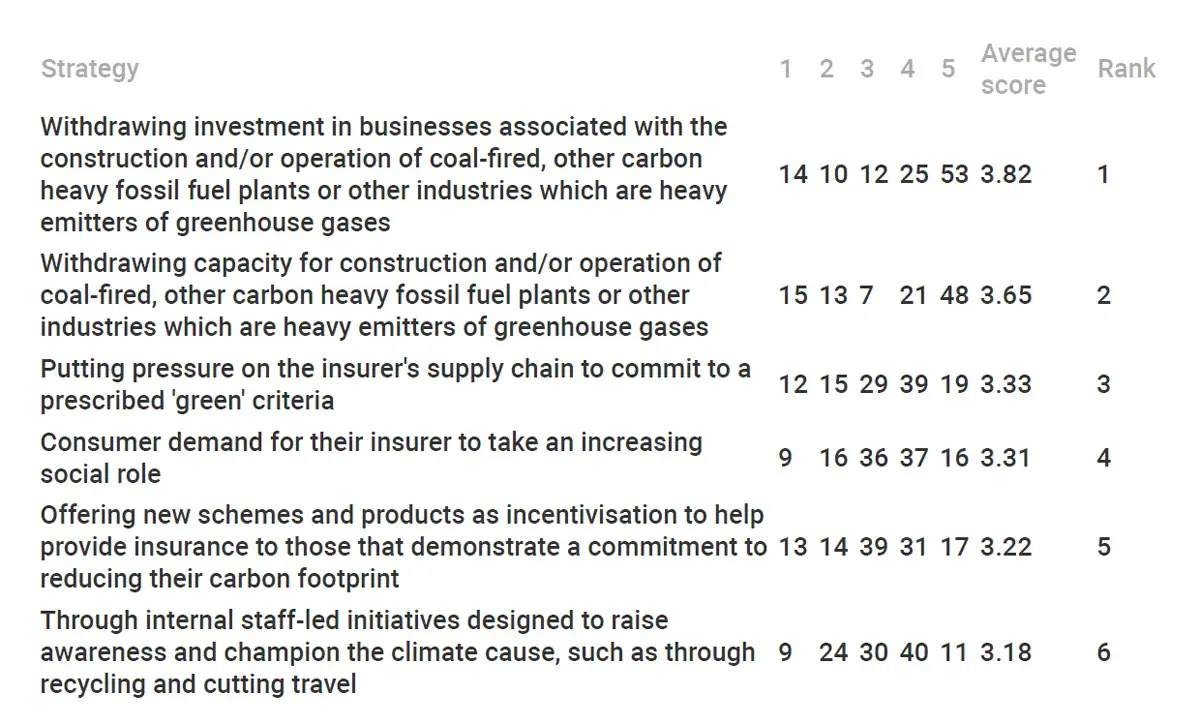 Which of these underwriting strategies do you think is the most effective way that insurers can help reduce the carbon footprint?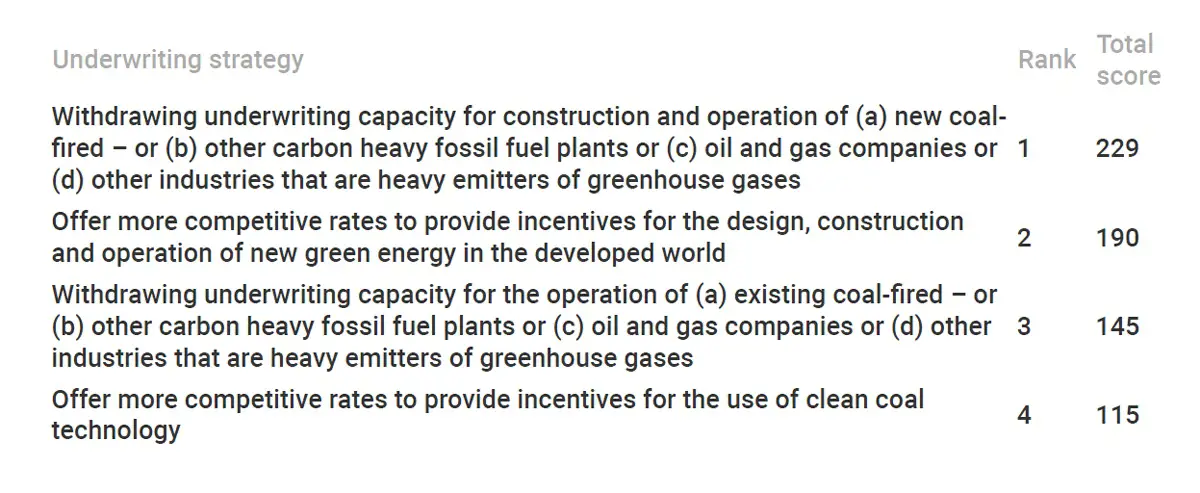 Stepping into the gap
Bosshard accepts that, as major insurers withdraw from underwriting coal, specialty insurers will step into the gap, although he argues they will be more expensive and they will undermine business models in the coal industry. He challenges those insurers to look at the wider picture: "They are protecting the coal industry, not society at large." The campaigners outside Lloyd's showed that there will be no hiding place for these insurers.
As that pressure starts to make an impact it would still allow polluting businesses the option of using captives or self-insuring, although the latter route could leave them with excessive risks on their balance sheets which could make shareholders nervous.
"We should become green ourselves before judging others," said one respondent.
"Take an active and innovative approach to reducing carbon emissions both within the company and encouraging the same in the wider industry," urged another respondent.
There is an impressive list of suggestions and many respondents want their employers to seize the opportunities they believe Covid-19 is presenting to reduce carbon footprints.
The coronavirus pandemic has led to the largest drop in heat-trapping emissions in human history, according to a University of Sydney study. Lockdowns, travel bans and closed manufacturing sites caused global emissions to drop by 4.6%, the review of 38 regions and 26 sectors showed. The largest emissions drop occurred in the US and China, largely due to grounded air travel and a decrease in power, water and gas use.
The dramatic decline still falls short of the efforts needed to limit global heating to 1.5C by 2050, however. Even if global greenhouse gas emissions were to sustain the 4.6% decline each year, emissions would need to decline another 3% every year between 2020 and 2030 to be on track to limit global warming and avoid the most extreme outcomes of the climate crisis.
With aviation and transport ranked in the survey as the biggest contributors to the drop in CO2 emissions, it is not surprising that a strong theme of the responses is to cut down travel, both international and commuting. This will bring joy to activists such as Mike Childs, head of policy for Friends of the Earth, who has warned that: "This year's improvement in the way we use our natural resources is solely down to Covid-19 and subsequent lockdowns. Unless there is a significant change in the way we act, the situation is likely to return to normal, or worse, in the following years."
There is also strong backing for the wider economic recovery to be focused on sustainability and positive environmental impacts. This was an opportunity missed in the wake of the global financial crisis a decade ago. It is estimated that only 16% of the economic recovery policies put in place by governments then were green. As a consequence, global emissions of warming gases increased by almost 6% in 2010 the first full recovery year after the crisis.
This time it has to be a priority with over 80% of industry respondents saying it is a consideration (18.4%) or a major consideration (63.1%).
Whether it is company policies, changes to underwriting and investment strategies or economic recovery plans, the message from the survey is clear, summed up by one respondent: "Less green words, more green actions."
In the aftermath of the global financial crisis, only 16% of the financial crisis recovery policies implemented were 'green' and in 2010 global emissions increased by almost 6% as fiscal recovery plans were implemented globally. To what extent do you think 'green' policies should be considered as part of the current fiscal recovery plans?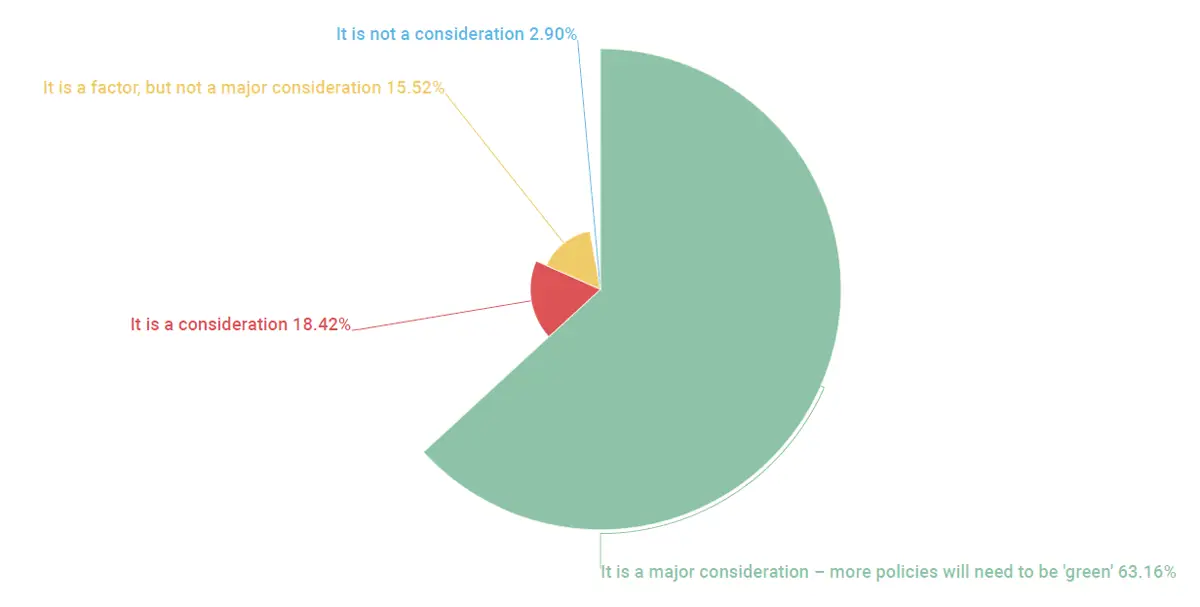 Related content