Related pages
Our global construction practice advises on contentious and non-contentious matters, and supports clients throughout the full life-cycle of their construction project, from procurement and contract advice to the resolution of disputes arising out of construction projects. See examples of our global expertise here.
With a client base spanning governments, corporates, public and private sector developers, contractors, insurers, consultants, funders and the surety market, we see issues from multiple perspectives and offer insight into the shifting commercial and legal landscape. We understand the challenges, risks and time pressures faced by our clients and add real value to their in-house teams by taking a solutions-focused approach and providing genuine guidance, rather than sitting on the fence.
Our construction specialists are integrated in practice areas and global offices, ensuring our clients receive seamless advice on all aspects of transactions, including financing, real estate, M&A and dispute resolution.
End-to-end construction support
Whilst we can get involved at any stage of a project or whenever a dispute arises, in our experience, our clients benefit from involving us as early as possible to work alongside them as an extension to their team. We work with and support our clients to:
Put deals together, including due diligence reporting.
Draft, review and advise on contracts, contract procurement structures and ancillary development issues.
Provide advice during construction.
Advise on contract administration issues, the giving of notices and the management of disputes.
Resolve issues and disputes both during and after the completion of a project, including mitigating against further losses and avoiding claims from arising.
Assist clients to obtain third party funding for their disputes.
Our lawyers also advise on claims under Contractors' All Risks policies.
Get in touch with a member of our Construction team
Contact us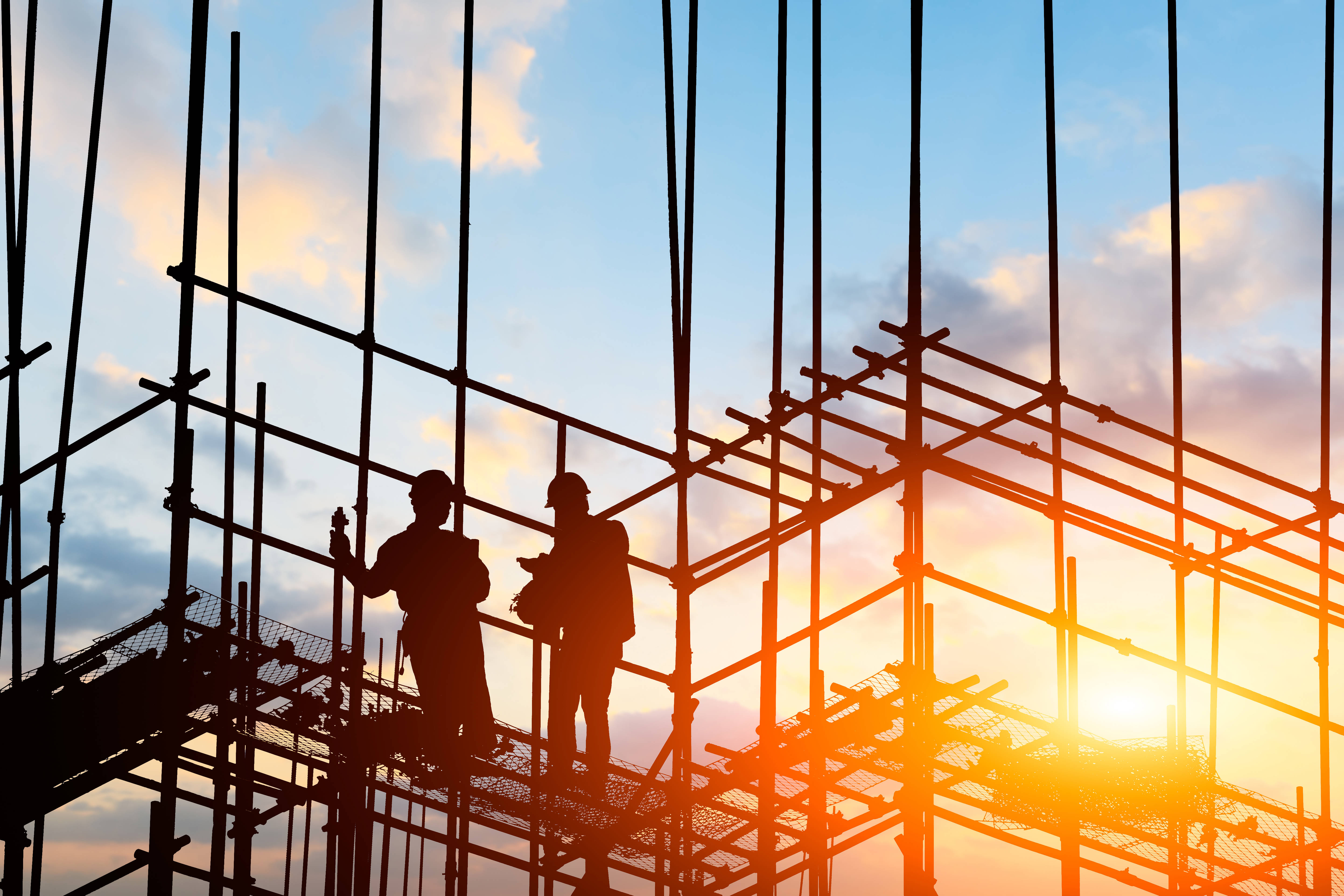 Our construction expertise
Projects and process contractual advice
We advise on developing procurement strategies and the analysis and allocation of construction risk. We review, draft, amend and negotiate all forms of construction documentation including professional appointments, collateral warranties, bespoke and standard form building contracts and sub-contracts, bonds, and guarantees. Throughout the construction project, we also provide inter-contractual and contract administration advice to help address any issues between parties at an early stage.
Our experience and expertise includes:
Drafting, reviewing, and negotiating contracts.
Advising on allocation of risk and loss including the appropriate insurance for projects.
Producing due diligence reports for major asset purchases or share sales.
Advising on the legal aspects of secured lending and asset financing and procurement structures.
Advising on joint venture contracts and providing strategic procurement and contract advice for major multi-phase developments.
Advice to surety providers in relation to guarantee and bond wordings, indemnities and related wordings.
Advising on all of the major forms of internationally used construction contracts, particularly the JCT FIDIC and NEC suites of contracts and their derivatives.
Advising on many specialised applications for construction law, including in the energy, rail, road, shipping and specialist building sectors throughout the world.
Advising on construction related issues such as BIM, CDM, Party Wall, and health and safety.
Public Private Partnerships (PPP) support
Our global team deal with some of the largest PPP projects, providing legal advice on restructuring, joint ventures and risk management.
Our services include drafting and negotiating concession agreements, equity transactions, debt and capital markets transactions and construction and engineering agreements. We also advise and assist clients across the construction industry in securing Third Party Funding, in addition to representing them in the funded dispute itself.
Dispute resolution
Kennedys is a specialist disputes practice, with much of our global work directly related to the handling or advising on contentious matters, often from 'cradle to grave', working with our clients from first awareness of a potential issue right through to successful resolution.
We're experienced in all dispute procedures: adjudication, mediation, expert determination, domestic and international arbitration (ad hoc and institutional), prosecuting and defending claims brought in court proceedings and other forms of ADR including jurisdictional and forum advice. Our expertise includes advising on claims under Contractors' All Risks policies.
Our work highlights from around the world
Advising the JV responsible for delivering the ongoing £1bn Airport City Manchester development featuring hotels, warehouses and infrastructure, including drafting and negotiation of construction documents with select property and corporate support.


Assisting a number of clients with their review and management of major framework and call off contracts relating to the HS2 rail project.


Working with NHS Trusts to provide support on large construction projects, including early dispute avoidance and resolution procedures.


Drafting project documentation for an off-site modular build training facility for a Premiership football club, including specialist equipment providers.


Advising in relation to a pioneering and high profile project in Silicon Valley, as part of a global advisory team, including risk management advice regarding new construction methods and products.


Creating a suite of construction documents and appointments for the redevelopment of an upmarket £5m+ aparthotel in central Manchester, utilising the backing of our real estate team.


Acting for developers on due diligence, procurement advice and contract work for hotel, residential and workspace projects worth upwards of £125m in Central and Greater London.


Drafting a suite of contracts and providing commercial advice for a project including residential and retail space in conjunction with a Premier League football club.


Advising the HV contractor in relation to a number of packages for the construction of a £3.8bn development project for the manufacture of electric batteries for high performance electric cars in North East England.


Advising the contractor and FM contractors in relation to a £150m dairy processing project in Southern England.
Advising a leading Irish building and contracting company in connection with construction work in Denmark, including drafting and reviewing contracts and providing legal advice on Danish legislation inclusive of construction work, employment, health and safety and advising on allocation of risk as well as the appropriate insurance for the project.


Advising on a multimillion AED commercial construction dispute between a Fortune 100 contractor and an employer, concerning work on an eminent project in Dubai.


Representing a firm of consulting engineers and their insurers, in relation to claims and counterclaims (involving both local litigation and potential arbitration) by and against a major developer arising from a series of civil engineering projects in Dubai.


Acting for a large consultancy practice in its claim for unpaid invoices and extensions/variation to the original Omani law contract arising from the overall delays experienced with the completion of the Muscat and Salalah international airports development.


Representing the main contractor in an ICC arbitration claim valued at US$18 million arising from the termination of a civil engineering contract under Omani law as a result of alleged delays to the completion of a water treatment plant.


Advising an investment SPV, as employer, on a refurbishment project of a mixed-use development in Abu Dhabi.


Drafting and producing a suite of standard form contracts (including civil engineering and turn-key) for a major government port development in the Sultanate of Oman.


Negotiating and drafting the required contracts for the expansion of a chemical plant in Sohar, Oman which included a master agreement with the IP technology holder based in Sweden, engineering design contract with the designers based in India, the main construction contract for the Omani based contractor and engineering/supervising agreement with a local consultancy practice.


Representing a semi-governmental entity in its capacity as employer in a multibillion AED construction dispute (DIAC Rules) against a prominent contractor responsible for the development of a land in Dubai.


Advising in numerous multimillion AED commercial construction disputes (involving various arbitral rules) across the United Arab Emirates.
Acting for a major mechanical and electrical contractor in court, adjudication and arbitration proceedings pertaining to disputes arising out of the construction of Jewel Changi Airport in Singapore, an SGD 1.7 billion retail and mixed development.

Acting for a prominent listed construction company in Singapore in domestic ad hoc arbitration pertaining to latent defects in a commercial building. The claim is in excess of SGD 1 million. The novel issue in this case is the defects were discovered after a retaining wall collapsed long after the warranty and statutory limitation periods have passed and if a claim in tort would not have expired by then. Other issues include causation and costs of rectification works.

Acting for a prominent listed developer in High Court proceedings in Singapore in relation to alleged defects / sinking driveway of an industrial building in Ubi. It involves novel issues on duty of care of a developer and what is the normal industry practice of a developer vis-à-vis developments built on marine clay. The claim is in excess of SGD 10 million.
Providing risk analysis services to a global construction firm with respect to use of digital technology in connection with construction of subdivisions for major technology firm located in Silicon Valley, California.


Advising subcontractors regarding negotiation of contracts with general contractors/project owners in connection with construction of new terminals at LaGuardia Airport in New York.


Advising an owner of a $25m NYC penthouse construction in an arbitration administered by the AAA against his General Contractor. The dispute involved alleged cost overruns, construction delays, and claims for both contractual and extra-contractual damages by the GC.


Advising a Project Owner/Developer in an arbitration venue in Hawaii in connection with a claim for repair costs in excess of $1m against the Project's architect in connection with the construction of US Army housing projects on the Island of Honolulu. The claim dealt with defective architectural/plumbing design by the architect that resulted in the need to reconstruct numerous plumbing systems throughout the extensive housing neighbourhoods constructed on hillsides.


Advising a construction manager in a dispute regarding alleged failure to properly perform obligations under contract in connection with construction of apartment building in New York.


Advising a global construction firm in dispute with international restaurant chain regarding alleged defective construction of Kentucky restaurant.


Advising a construction manager in connection with a claim brought by the owner/developer of a medical arts building for cost overruns exceeding $2m due to faulty design of a glass curtain wall and allegedly inadequate construction management.
Acting for a local Peruvian entity on US$26m a claim concerning the construction of a tunnel for Luz del Sur.


Advising on a possible defective design issue under an Engineering All Risk/Operational policy in Brazil involving a billion US dollar dam project.


Advising international reinsurers on several roadway projects across Latin America, notably Chile and Mexico, following severe weather/earthquakes.


Advising on fire damage during the construction of commercial and residential buildings. The loss occurred after the end of the Works Period and during the Maintenance Period, however it did not relate to maintenance works. The Insured had not asked for an extension of the Works Period (BRL15,000,000 for commercial).


Advising in relation to a subway pipeline rupture that caused a serious impact to the construction works and damages to hundreds of families living in the community.


Advising on surety bond issues on various infrastructure projects across Latin America, most notably a large airport project in Panama, and re-negotiating the commercial agreements in place to extend the duration of the bond in order to enable the bond to run with the Project until completed.


Advising the (re)insurance industry of the implications of force majeure in their construction contracts and ancillary contracts, such as bonds, in response to the COVID 19 pandemic.


Following the Lava Jato scandal, we acted for clients in the US and the UK who were involved in projects in Latin America where certain contractors were no longer permitted to work in some countries in Latin America and we were engaged to advise clients on how to wind down their existing contracts and either novate or terminate them to a new third party contractor without disrupting the works.


We also advise on the use of English contractual modalities such as NEC - introduced in the region by virtue of government to government agreements entered into with UK - technology such as Building Information Modelling to manage the construction process and mitigate against unexpected delays or design flaws and we work alongside engineers on the possible uses of BIM etc.
Latest news, thought leadership and events