11/04/2023
In Practice Series - Sustainability initiatives at EU level – the current status
This article was originally published on Compliance & Risks 'In Practice Series' blog, April 2023. 
This article was co-authored by Tegan Johnson, Solicitor Apprentice, London. 
The European Union (EU) Green Deal was introduced on 11 December 2019 and aims to reduce greenhouse gas emissions and to minimise the use of resources whilst achieving economic growth on an EU-wide level. To maximise its impact and ensure that the transition to climate neutrality is irreversible, the European Climate Law, which came into force on 29 July 2021, writes the EU Green Deal's goal for Europe's economy and society to become climate neutral by 2050 into law.
In tandem with the above, one of the main building blocks of the EU Green Deal is the Circular Economy Plan, adopted in March 2020, which implements both legislative and non-legislative sustainability initiative across the entire life cycle of products. It aims to target how products are designed, promotes circulate economy processes, reduce waste and ensure that resources are kept in the EU for as long as possible.
In 2023, we have seen the momentum for sustainability initiatives continuing to grow. On 1 February 2023, the European Commission (EC) presented a Green Deal Industrial Plan which aims to provide a more supportive environment for the scaling up of the EU's manufacturing capacity for the net-zero technologies and products required to meet the EU's ambitious climate targets.
Aside from the overarching position at EU level, consumers are further being more proactive in their pursuit of adopting a more sustainable lifestyle. This shift in consumer attitude is resulting in increasing scrutiny for businesses in respect of the actions they are taking to tackle sustainability and ESG-related issues such as climate change, human rights and diversity and inclusion. In turn, this is seeing businesses across all sectors considering how sustainability and ESG forms part of their core business model in order to remain competitive in an ever global market.
The legal framework
As part of this sustainability movement, the EC has announced a number of new legislative initiatives or revisions to existing legislation aimed to assist with achieving the EU Green Deal's commitments of "longer lasting products that can be repaired, recycled and re-used" and "tackling false environmental claims by ensuring that buyers receive reliable, comparable and verifiable information to enable them to make more sustainable decisions". Some recent proposed initiatives are as follows:
EC Proposal
Impact
Proposed Deforestation and Forest Degradation Regulation

On 17 November 2021, the EC proposed a new regulation to "curb EU-driven deforestation and forest degradation" and repeal the longstanding EU Timber Regulation which entered into force on 3 March 2013. The EC has identified that the main driver of deforestation and forest degradation is the expansion of agricultural land to produce commodities such as palm oil, soy, cocoa or coffee. 

The proposed regulation is in the same spirit and therefore builds upon the principles of the EU Timber Regulation, but broadens the scope of application to further product categories, including the commodities noted above.
Businesses who wish to place these commodities or products containing these commodities on the EU market will have to conduct mandatory due diligence. The due diligence requirements are intended to include: 

Collecting the geographical information on the farmland where the commodities that they source have been grown, so that these commodities can be checked for compliance.
Proving that products are deforestation free (produced on land that was not subject to deforestation after 31 December 2020).
Proving that the products are legal (compliant with the relevant local laws in the country of production). 

Proposed Ecodesign for Sustainable Products Regulation

In 2021, the EC determined that the current eco-design measures saved "120 billion in energy expenditure of EU consumers and led to a 10% lower annual energy consumption by the products in scope". On 30 March 2022, the EC announced a proposal for a new framework for setting ecodesign requirements for sustainable products which aims to broaden the scope of the current Directive 2009/125/EC; both in terms of product scope and requirements. 

The proposal sets out a number of new requirements aimed to improve the environmental sustainability of products by setting ecodesign requirements that should be fulfilled in order to place products on the EU market. The mainstay requirements will relate to: product durability, repairability and reusability; substances that inhibit circularity; recycled content in products; and the expected generation of waste in products. There will further be information requirements, such as a product passport, to provide consumers with sustainability information. 

On 31 January 2023, the EC published a consultation which focused on identifying new product categories and measures that the proposed new regulation should prioritise. This included the following: 

End-use products: textiles and footwear, furniture, ceramic products, tyres, detergents, bed mattresses, lubricants, paints and varnishes, cosmetic products, toys, fishing nets and gears, and absorbent hygiene products.
Intermediary products: iron and steel, non-ferrous metals, aluminium, chemicals, plastic and polymers, paper, pulp paper and boards, and glass. 

Proposed Green Claims Directive 

In 2020, the EC undertook a study which highlighted that "53.5% of examined environmental claims in the EU were found to be vague, misleading or unfounded and 40% were unsubstantiated". On 22 March 2023, the EC proposed to introduce common criteria to help tackle greenwashing and environmental claims.

The proposal aims to set out minimum requirements on the substantiation and communication of voluntary environmental claims and environmental labelling in business to consumer practices. In particular:

Article 3 focuses on the substantiation of claims which will be based on an assessment that meets selected minimum criteria to prevent claims from being misleading. 
Article 4 sets out further requirements for comparative claims. 
Article 5 supports the aim of ensuring that environmental claims are made on products or traders that offer environmental benefits as compared to common practice. 
Article 6 states that comparative claims on an environmental impact of a product compared to another product from the same trader shall be based on evidence that the improvement is significant and achieved in the last five years.
Article 7 ensures environmental labels fulfil the requirements set out in Articles 3 to 6 of the proposed directive and are subject to the verification requirements set out in Article 10.
Article 8 details requirements for environmental labelling schemes. 
Article 9 sets out the requirements for the review of environmental claims by traders. 
Article 10 sets out how substantiation and communication of environmental claims, and labels will have to be verified and certified by a third party. 

Revision of the Packaging and Packaging Waste Directive 
On 30 November 2022, the EC proposed to revise the current Packaging and Packaging Waste Directive. The amendments aim to: prevent the generation of packaging waste; ensure that all packaging on the EU market will be recyclable in an economically viable way by 2030; and increase the use of recycled plastics in packaging. 
The regulatory trend of sustainability regulations
A snapshot from C2P demonstrating the growth in regulations across our topics relevant to sustainability such as Ecodesign, Circular Economy and Climate Change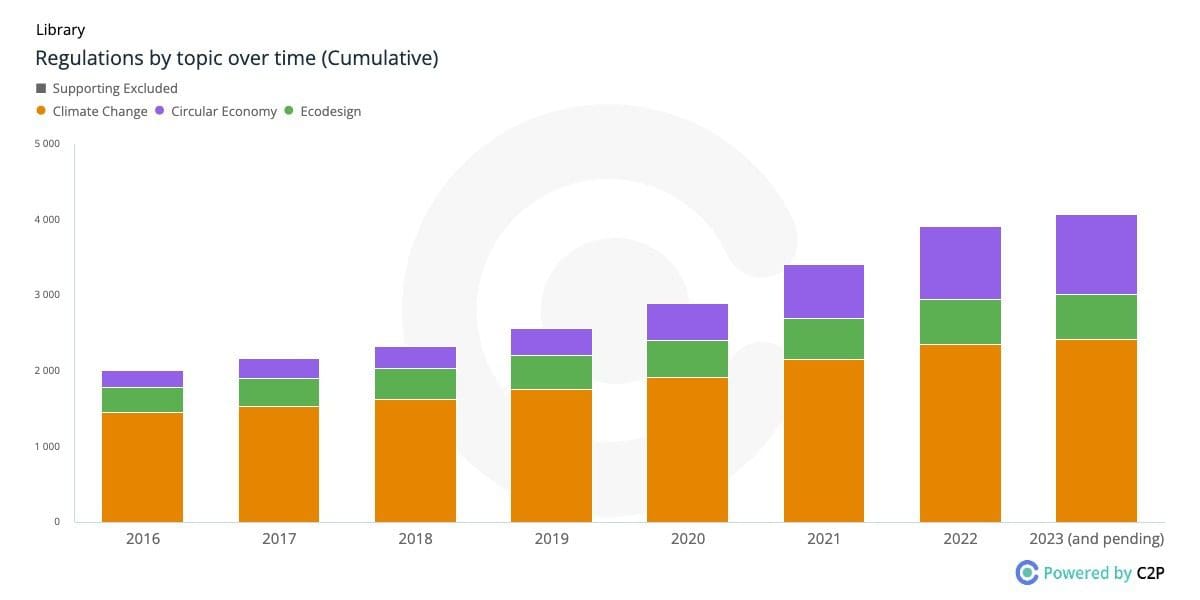 The consequences
Sustainability regimes at EU-level are complex and are both omnipresent and product specific. This adds to the complexity of understanding which regimes are applicable to a particular business. From the draft text of the proposed legislative initiatives published by the EC, it is self-evident that the penalties are broad and severe in many instances, and come with the added aspect of heightened reputational harm. In particular, we are seeing a "green bonus" for businesses who have strong eco-credentials and a "brown tax" on those who are not as proactive in adopting similar initiatives.
We will continue to monitor whether the draft text of the proposed legislative initiatives are likely to change, however, based on the current text, the mainstay consequences of non-compliance include the following:  
Consequences
Commentary
Direct Monetary Penalties

One common consequence of breach is a fine or monetary penalties – this could be based on a proportion of the company's turnover or a fixed set amount for breach. 

For example, the Proposed Green Claims Directive confers Member States to impose fines which effectively deprive those responsible of the economic benefits derived from their infringement, and increasing the level of such fines for repeated infringements. The maximum amount of such fines being at least 4% of the trader's annual turnover in the Member State or Member States concerned.

Indirect Financial Penalties

While less common than direct monetary penalties for breach, the Proposed Green Claims Directive empowers Member States to temporarily exclude businesses for a maximum period of 12 months from public procurement processes and from access to public funding. 

The Proposed Ecodesign for Sustainable Products Directive further confers Member States to take appropriate measures to restrict or prohibit products being made available on the market if they fail to meet the requirements set out in Article 21, such as a failure to make a product passport available to consumers.

Civil Liability
The mounting pressure on businesses to achieve fair and sustainable practices coupled with the increasingly available opt-out class action mechanisms provides fertile ground for group litigation.
Reputational Harm 
The impact of infringements could result in significant reputational harm for businesses – particularly as sustainability measures and practices, and related news stories, garner significant media attention. 
Checklist to improve compliance with the EU's sustainability initiatives
Businesses should always refer to the specific regulations and guidance in place in the jurisdictions they are operating.
However, the following general principles may provide some helpful pointers for staying on the right side of the law: 
Understand the current and proposed legislative initiatives, and how they apply to your value chains and products.
Proactively develop sustainability policies and strategies which consider both current and proposed sustainability initiatives, such as where commodities are sourced, identifying adverse environmental impacts within value chains and how to reduce the negative impact on the environment during the production of products.
Undertake due diligence and/or embed accountability in supplier code of conducts to ensure that sustainable practices that align with your business model are followed throughout supply chains. 
Consider how products can be designed with sustainability in mind – for example, the raw materials used, how to reduce energy consumption throughout the product life cycle, how to increase the longevity of the product and whether the product can be recycled at its end of life. In addition to whether recycled plastics can be utilised within product packaging. 
Consider how sustainability information can be provided to consumers and kept up to date. In particular, through the use of e-labelling or product passports. 
Ensure that green and environmental claims used in both marketing and labelling are clear, accurate, can be substantiated and are correctly compared to other products in line with current guidance and the proposed Green Claims Directive. 
Measure sustainability performance on a periodic basis to understand current performance levels and how improvements can be made going forward.