This article was originally published on Compliance & Risks 'In Practice Series' blog, July 2023.
This article was co-authored by Tegan Johnson, Solicitor Apprentice, London.
In the context of the European Union (EU)'s long standing sustainability policy initiatives in the products sphere, ecodesign and energy labelling have often been a key focus of consideration. The European Green Deal, which was introduced in December 2019, presented objectives of boosting energy efficiency, the ecodesign of products and promoting EU energy standards and technology at a global level. In tandem with this, the New Circular Economy Plan, which was adopted in March 2020, targets how products are designed, promotes circular economy processes and encourages sustainable consumption.
In 2021 alone, the impact of the current ecodesign measures, covering 31 product groups, saved €120 billion in energy expenditure for EU consumers and led to a 10% lower annual energy consumption by the products in scope. On 30 March 2022, the European Commission (EC) published its Ecodesign and Energy Labelling Working Plan 2022-2024 (Working Plan) which sets ambitious targets to present or adopt 38 reviews of existing measures before the end of 2024 in order to bolster further energy and material efficiency savings. As part of the Working Plan, the EC intends to prioritise work on reviewing existing measures in three main groups:
Heating and cooling appliances.
Other product groups with energy rescaling.
Other product groups that represent significant savings potential in terms of energy or material savings that are long overdue or where particular circumstances imply a clear urgent need for revisions such as for water pumps, fans and external power supplies.
Against this backdrop, the EC announced, on 30 March 2022, a proposal for a Ecodesign Sustainable Products Regulation (ESPR) which will replace the current Ecodesign Directive 2009/125/EC and which will be the "cornerstone of the EC's approach to more environmentally sustainable and circular products". The proposed ESPR will further expand the sustainability requirements for regulated products, including toys and adjustable furniture or building elements (as opposed to energy-related products only). In tandem with this, on 17 April 2023, the EC published a new regulation laying down ecodesign requirements for off mode, standby mode, and networked standby energy consumption of electrical and electronic household and office equipment (Off Mode and Standby Regulation). The aim of Off Mode and Standby Regulation is to update the ecodesign requirements in line with technological progress and to expand the scope to include additional products that are increasingly being sold in volume on the EU internal market.
Of course, more stringent regimes mean ever more work for manufacturers and other economic operators in the EU, and a growing regulatory burden means all businesses will have to strongly consider potential changes to their actions, sustainability measures and supply chains.
The ecodesign legal framework
The mainstay regulatory framework includes:
Ecodesign Directive 2009/125/EC
The current Ecodesign Directive 2009/125/EC is set to be repealed by the proposed ESPR below.
European Product Registry for Energy Labelling (EPREL)
On 1 January 2019, suppliers (manufacturers, importers or authorised representatives established in the EU) must register their products in EPREL. In May 2022, the database was launched for public access and consultation.
Energy Labelling Regulation 2017/1369
The Energy Labelling Regulation 2017/1369, which came into force on 1 August 2017, introduces a revised energy labelling system which:


Consists of a single energy labelling scale from A to G for energy-efficient products.
Provides a process for rescaling existing labels which is to be completed by 2 August 2023.




Proposed ESPR
On 30 March 2022, the EC announced the proposed ESPR which will expand upon the current Ecodesign Directive 2009/125/EC and be applicable not only to energy-related products but also to household appliances, domestic IT equipment, toys, adjustable furniture, motor-operated building elements (i.e. gates and shutters) and consumer audio-visual equipment.

The proposed ESPR will set a wide range of requirements, including on:


Product durability, reusability, upgradability and reparability.
Presence of substances that inhibit circularity.
Energy and resource efficiency.
Recycled content.
Remanufacturing and recycling.
Carbon and environmental footprints.
Information requirements, including a digital product passport.

Off Mode and Standby Regulation
On 17 April 2023, the Off Mode and Standby Regulation was published pursuant to the current Ecodesign Directive 2009/125/EC. The aim of which is to establish eco-design requirements related to off mode, standby mode, and networked standby energy consumption for the placing on the market or putting into service of electrical and electronic household and office equipment.

The energy-related products covered by this regime are set out in Annex II and include:


Appliances designed, tested and marketed for household use.
Information technology equipment intended primarily for use in the domestic environment, including printing equipment but excluding certain computers.
Consumer equipment.
Toys, leisure and sports equipment.
Motor operated adjustable furniture.
Motor operated building elements.

As part of the Off Mode and Standby Regulation, the regime sets the following new limits:


From 2025, devices must not consume more than 0.5 Watts in standby or in off mode, or 0.8 Watt if they are on standby while displaying their status or information (1 Watt for tumble dryers);
From 2027, devices must not consume more than 0.5 Watts in standby, 0.3 Watts in off mode, or 0.8 Watts if they are on standby while displaying their status or information; and
Also from 2027, devices in networked standby must not consume more than 2 to 7 Watts depending on the product.
The regulatory trend
C2P Regulatory Growth Chart illustrating the substantial rise in Ecodesign and Energy Efficiency Regulations since 2016.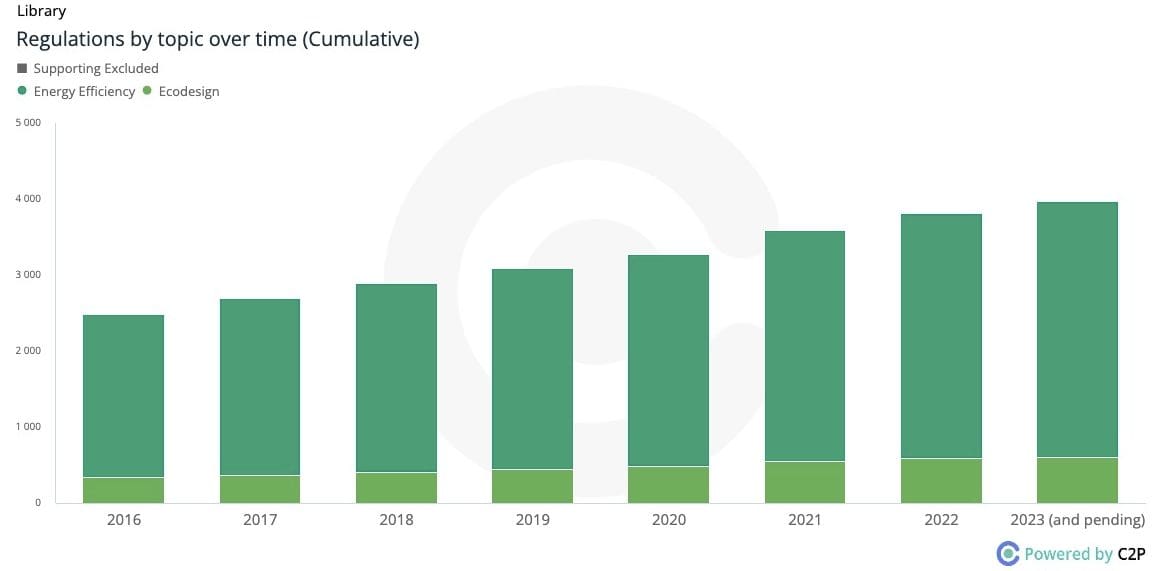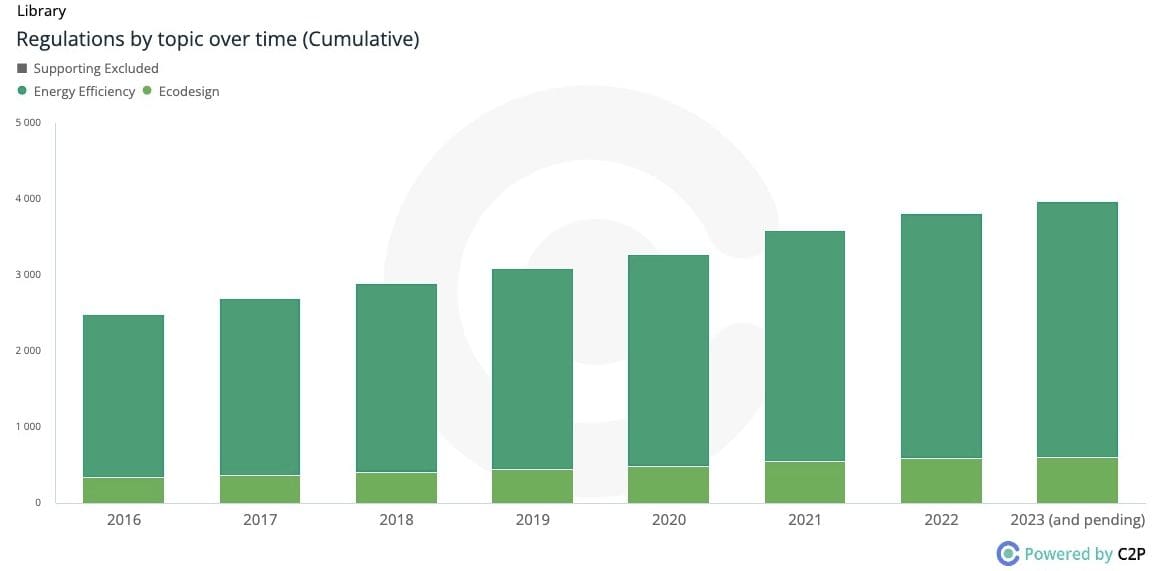 The consequences
The regimes noted above are subject to change given how quickly this area is developing.
The penalties of not following the requirements can be severe, and come with the added risk of heightened reputational harm. While very much being dependent on the specific drafts and regulations, the consequences of non-compliance of existing legislation generally can include:
Consequences
Commentary
Direct and Indirect Monetary Penalties
Member States are generally able to designate an authority to supervise and impose effective proportionate and dissuasive sanctions, including fines and compliance orders.

Fines aren't the only financial penalties available. The proposed ESPR allows a restriction or prohibition on products being made available on the market if they fail to meet set requirements, preventing sales and therefore limiting profits.
Criminal Sanctions
As above, some regulations allow member states to set sanctions, and these can (at the more extreme end) include criminal sanctions and imprisonment for serious breaches.
Reputational Harm
One less tangible harm, but ultimately another risk, is that of damage to reputation. Media attention is quickly directed at corporate sustainability "failures", and can be damaging to the reputation of a business. In a world where consumers are often willing to pay more for a green product or business, this kind of impact can have a real financial effect.
Civil Liability
Member States are often empowered to ensure that victims get compensation for damages resulting from a company's failure to comply with its obligations under the directive. It is possible that those damages could be extensive, and that this will be a heavy penalty for companies with non-compliant products.
Checklist to improve compliance with ecodesign requirements
Companies should always refer to the specific regulations and guidance in place in the jurisdictions they are operating.
Sustainability regimes at EU-level are complex and can be overarching or product specific, so it's important to monitor what is applicable to your business and service. However, the following general principles may provide some helpful pointers for businesses with sustainability in mind:
Assess the revised scope of the legislation to determine products likely to fall within the regulation, and the implications thereof.
Review sustainability information provided to consumers and end users, which assists them to understand how to get the best results (from the product and for the product) but also how to recycle, reuse or dispose of it too. Ensure such labelling or clams are not 'high risk' in respect of green claims and/or that they are compliant with mandatory labelling requirements.
Take a holistic approach to manufacture and design, considering the whole life cycle of a product from raw material to eventual disuse. Consider these requirements throughout the product lifecycle.
Establish strategies and sustainability policies which account for the current position and likely future developments, aiming to reduce and mitigate any adverse impacts of products and services.
Implement due diligence policies which consider your business' sustainable practices and aim for continual improvement.
Anticipate future change where possible, and design or manufacture products which are ambitious and leave a leeway between actual performance and current requirements, to allow for future changes in the law.
More from the blog...